Does anyone know how to record audacity music in HD quality ?
You may need to record your favorite music tracks and save them on your Windows PC hard drive with the help of audio recording software. Audacity music software is such a software that allows you to carry out the process of Audacity music recording easily. Follow the steps outline below:
Note: Before you launch the program, you ought to enable stereo mixing futures on your Windows computer in order to be able to record music from the audio streaming websites.
Step1. Assuming that you have already installed Audacity music editor on your computer, launch the program. This will take you to the main recording panel. Click on the Microphone icon shown below and select the Stereo Mix option from the drop down list that appears.
Step2. Next, click on the Recording button (Red button) shown on the screenshot below to initiate the recording process.
Step3. Now go to the audio streaming site where you want to record your music tracks from and start the playing button.
Step4. When the song stops playing, click on the square button below to end the recording process.
Step5. You can now click on the Play button, found next to the Record button, and listen to the recorded song!
As you may have noted, Audacity music software is prone to various problems when being used to record music, such as failure to start and occasional crashing. Another application that you can use to easily record your favorite music tracks is iMusic, which is relatively easy to use for everyone including the beginners and comes with powerful features than those of Audacity. Let`s have a closer look into this program.
Well, iMusic is an application that allows you to record your favorite music tracks. The best part about this program is that it produces an output that has the same high quality level as the original music and automatically encodes the recorded audio into your preferred format- MP3 or M4A!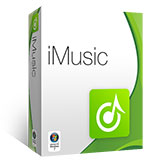 iMusic - Best Audacity Alternative to Record Music with Simple Clicks
Record songs and playlist with original quality.
When recording, the ID3 tags, like artist name, song title, year and genre, will be added to the song automatically.
Supporting recording from most streaming music sites like Spotify, Pandora, last.fm, Vimeo, Dailymotion, Facebook, VEVO, etc.
Transfer recorded songs from iTunes library to iPhone/iPod/iPad/Android/Mac/PC easily.
1 click to burn recorded songs to CDs with HD quality.
Remove music DRM protection and convert downloaded M4P music files to MP3 format.
How to Record Music with Audacity Alternative
Step 1: Download and install the application on your computer. After the installation is over, start the program. From the main panel, click the GET MUSIC tab and click the RECORD menu to get to the recording surface. Press the red button to get ready for the recording process.
Step 2: Go to the audio streaming website where you would like to record your music files from and start playing them. When the audio starts playing, the program will automatically detect this and starts the recording process. When the music stops, the software will stop recording.
Step 3: The program can identify the recorded songs automatically and get music information like title, artist, album and genre. To check and listen the recorded music, you can go to the LIBRARY tab where your recorded music are listed.
You can occupy yourself with other activates the application records your favorite music, splitting them and eliminating ads that might pop up along the process giving you clean MP3 or MP4 files.
Why Choose This Audacity Alternative
As aforementioned, iMusic boasts of the most powerful features among the popular sound recording and editing apps such as Audacity. These features are:
1. Direct recording of music from online streaming websites such as MySpace, YouTube, Pandora, Yahoo Music, Google Play, Spotify, GUBA, XM Radio Online… the list is endless. Generally, you will enjoy recording of free music tracks from over 500 audio streaming websites.
2. Ability to split music tracks as well as eliminate ads in the music files. You don't have to worry about numerous music tracks being recorded as a whole file or ads appearing in your recorded music tracks. iMusic excellently takes care of all this, giving you only the perfect music files that you need.
3. Recording a music track from a music clip has now been made easier, thanks to the iMusic application. What's more, the recorded track maintains a high quality similar to that of the original music, a rare feature in other audio processing applications.
4. You can also record your audio files and automatically save them to your iTunes library or playlist. This has been made easy by an "Add to iTunes" button the application comes with.
5. And the best part about his application is that you can now be able to obtain your recorded music tracks information such as title, album, artist and genre. Sounds too god to be true? Well, this is what the application truly does. This has been made possible by the ID3 tag technology that comes with the app.