How to Convert Napster to MP3 ? Does anyone have some good suggestions?
Founded in the Year 1999 as P2P file sharing service emphasizing on digital audio files, Napster presently is paradise for music lovers. It is a popular music streaming service that allows user to have access to over 32 million songs. The site boasts of having the great collection of songs over different genre including classical, rock, hip-hop, R;B, Latin, pop, country and many others. In addition to music, users can also enjoy original video content, radio stations, playlist and reviews. Napster offers curated experience of music which can be enjoyed at home, at office, in car or even on phone. So whenever you fail at finding your favorite music or song at different music sites, head at Napster.
Napster is an online streaming service where you can enjoy music only when you have access to stable Internet connection. Thus to make your Napster MP3 music available anytime anywhere, download is the best option. Using software and other third party tools , you can download Napster to MP3 and carry your personalized playlist wherever you go. Roundup of the best solutions for Napster MP3 download is listed below.
Napster is an online music sharing site that enables you to enjoy unlimited streaming music files. The site has impressive music catalog from where you can search for your favorite songs and enjoy them with your computer or mobile devices. The interesting interface of the site also provides recommendations from people, has list of new releases and features editor created playlist to make the song search easy. You simply need to search for your desired song on the site or select from the given list and click on the Napster link to enjoy it for free.
In addition to desktop version, Napster is also available for smartphones and tablets, so that users can enjoy Napster music on their mobile devices on the go. Napster app is available for iOS , Android and Windows devices and allows unlimited streaming of songs and playlist on phone and tablets. Once the app is downloaded and installed on device, impressive music collection is available at your fingertips.
Napster is site where you can enjoy listening to music online but if you wish to enjoy the songs offline you would need to download and convert Napster to MP3 using a music downloader program. Among all the music downloader programs, iMusic is one such professional downloader that allows you to download and convert Napster to MP3, and save the music files on your PC so that you can enjoy the songs even when there is no Internet connection. This program allows you to download as welln as record songs in different formats from more than 10,000 sites, including Napster, YouTube, Spotify, etc. The software is compatible of working with Windows as well as Mac system and boasts list of interesting features as listed below.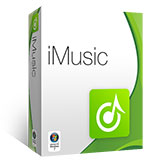 iMusic - All-in-One Music Downloader and Management Tool
Download music from more than 3000 music sites by copying and pasting the URL.
Record unlimited music from any website for playback in your computer with just one click.
Built-in music library let you browse and preview the lattest and hottest music.
Automatically save downloaded/recorded music to library for management and easy transfer.
Identify and tag music with artist, title, album, genre, and more with the latest technology.
Transfer downloaded music from iPhone/iPod/iPad/Android to iTunes/Windows/Mac/iPhone/iPod/iPad/Android easily.
1 click to burn music to CDs with original quality.
Key Features of iMusic
Allows you to convert Napster to MP3 directly and supports download from over 10,000 sites
Provides feature of detecting and recording any music file played on the Internet
Filters and splits the pop-up ads during the downloading and recording process
Offers great music collection of over 300,000 songs with 1000 playlist from which you can discover, save and then share
Features music management features like tagging music files, removing duplicates, updating cover art and others
Allows you to transfer the downloaded or recorded music files to your mobile devices with one click
Enables you to convert the downloaded music files to MP3 files for mobile devices
Steps to Download Napster to MP3 Using iMusic
Using iMusic, you are able to download and convert Napster to MP3 with a few simple clicks. The following guide will show you how to do that in detail.
Step 1. Start iMusic
Download and install iMusic on your computer, then start it. The program will display the main interface of discovering music.
Step 2. Choose RECORD Option
Now choose the RECORD option at the top middle of the main interface, and the program will show you the main interface of recording music.
Step 3. Record Napster Music to MP3
Click the round Record button at bottom, and the program will get ready for recording. Now you can play the Napster music on your computer, and the program will automatically start recording the Napster music file. By default, iMusic will record the music file to MP3 audio file.
Step 4. Locate Recorded Music
When the recording process is done, you can choose ITUNES LIBRARY option at the top middle of the main inteface, and then choose the Microphone icon at the upper left corner to view the recorded music in Recorded playlist.
So that's how iMusic helps you convert Napster to MP3 audio tracks. This program is also helpful for downloading music from the music sharing sites like YouTube, SoundCloud and so on.
Another easy and quick way for downloading Napster to MP3 is using an online recorder or a converter. One such decent program is online-voice-recorder.com/ that allows recording any type of sound that is played on your PC through microphone. The program is free to use and comes packed with useful features as listed below.
Key Features of Online Recorder
Detects silent fragments at the end and starting of the recording and automatically deletes them.
The recorded audio can be cut and cropped as per requirements.
Adobe Flash Player can be used to adjust the settings of microphone.
The program maintain complete privacy.
It is easy to use and free program without any hidden charges, activation fees or payments.
Steps to Convert Napster to MP3 with Online Recorder
Step 1. Open online-voice-recorder.com/ on your browser.
Step 2. On the left side of the program, click the red Record button. Play the desired Napster music or song to start the recording process.
Step 3. Click the Record button again to stop the recording. Click "Save" on the right bottom corner. Next click the "Click to Save" button to save the recorded file and select target folder on PC.
If you have subscribed to Napster, you are able to download music from this music sharing site to your computer for offline enjoyment. The following guide will show you how to do that in detail.
Steps to Download Napaster to MP3 on Computer
Step 1. Visit Napster and click Subscribe. Then choose a plan and become a member.
Step 2. Find the music files you want to save to your computer, and click the Download button.
Step 3. When the downloading process finishes, you'll get the music files on your computer. Now you can right-click one of the music files and choose Open with Windows Media Player or other music player programs on your computer for offline enjoyment.
Conclusion: With the help of the mentioned methods, you are able to convert Napster to MP3 audio files without any effort. Among all these solutions, you can easily find out that iMusic is the best one. So if you are interested in this program, you can free download it to have a try.