Recording a live stream can be a daunting task especially if not acquainted on the relevant tools. However, with the knowledge of the same, you can perform live stream with great ease. There are several radio streaming and recording programs available for desktop as well as on online application. With the right radio recorder, you can enjoy the best live stream service.
iMusic is no doubt the best radio and streaming audio recorder for Mac and Windows equipped with a wealth of amazing capabilities. Users have a wide pool of radio stations to record from and transfer them between devices including the popular hot ones. With a number of perfectly integrated features, this tool should be your definite tinker tool for radio recording on your Mac and Windows.
How to Record Streaming Audio and Radio
Step 1.

Run the streaming audio recorder

Launch this iMusic streaming audio and radio recorder program and navigate to the "GET MUSIC".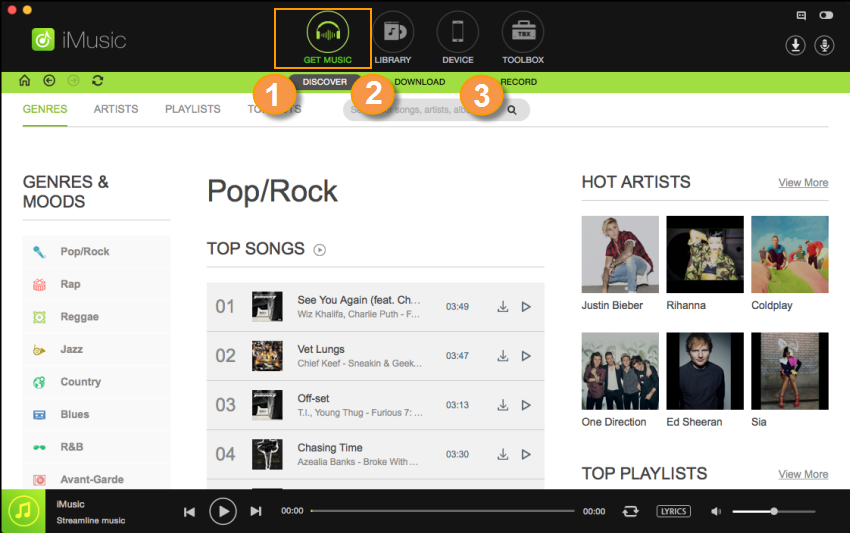 Step 2.

Record steaming audio and radio in 1 click

Click on the "Record" button and visit the radio station you wish to record. While the radio station is playing, iMusic would automatically record it. Go to the video site and copy the URL and paste it within the menu situated at the top of the primary window. You can find the recorded program in the record button under the "LIBRARY" menu.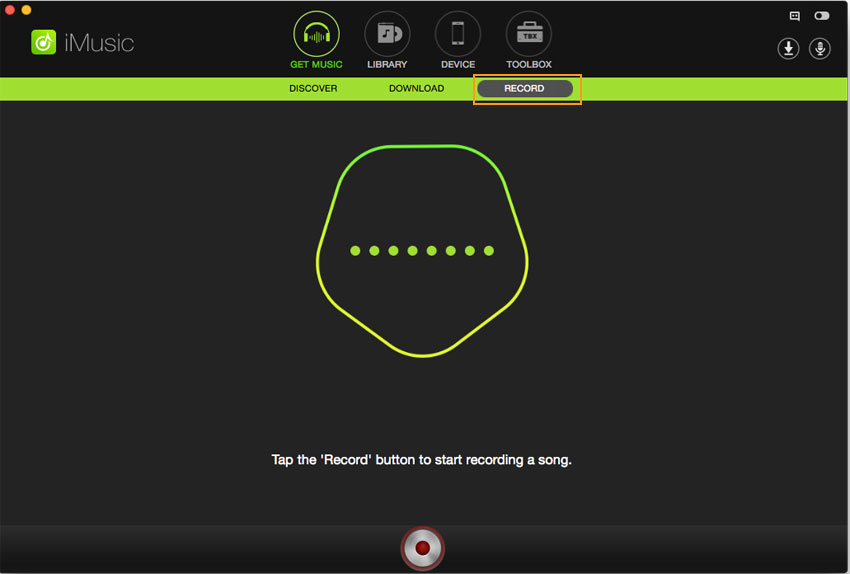 Optional: How to download streaming audio from URL
Step 1. Run the program and open the "GET MUSIC" window.
Step 2. Visit the video site and copy the music URL code. Go back to the program and paste within the "Paste URL" button.
Step 3. Select your preferred format and click "Download" button.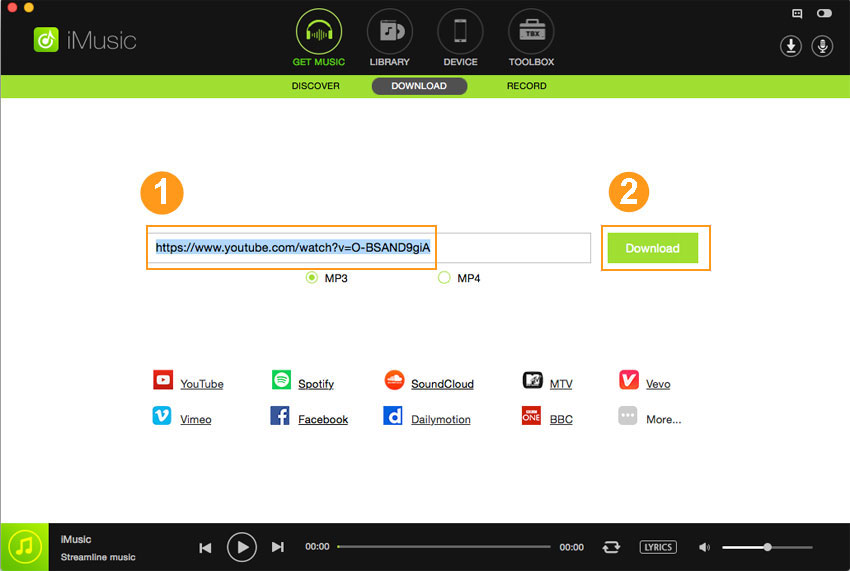 This online radio recorder application is a professional software that not only record online radio but also music, and VoiP among others.
• The application supports recording of multiple media files.
• Better features are found with the premium version.
Audacity is a popular functional radio recorder tool for online radio stations. Besides, the open-source program is a digital audio editor.
• Users can set to record radio only during their show's duration.
• The interface looks a bit untidy.
This is a free radio with thousands of stations sorted n terms of genre, region as well as network.
• Thousands of radio stations can be accessed via this program.
• The program has limited recording only to a single station.
This online radio application enables users to record radio stations and broadcasts. In a session, you are only limited to 2 stations and 25 songs. However, with the paid version, the restrictions are removed.
• With paid version, you can access many radio stations.
• Free version is limited.
This is a popular and free online radio recorder with more than 4000 preset radio stations.
• Large number of preset radio stations constantly updated.
• There is no recording scheduler.
This is a Mac internet radio recorder application that allows users to record their favorite radio stations as MP3 individual files.
• The program supports a large number of radio stations.
• The program is available for Mac.
Spesoft Shouoff is an online radio app which provides a number of radio stations with several kinds of content. It supports saving of streams as mp3 or ogg files.
• This app is simple and easy.
• It does not provide extra capabilities like searching for specific song.
This online recorder allows users to record as many stations the computer and the internet is capable of simultaneously.
• Recordings can be scheduled.
• Better features are found with the premium version.
The Radio Sure free version offers more than 17000 radio stations as per the developer. The program is capable of recording two stations simultaneously and has a support for users to access their preferred stations with ease.
• Provides access to a large number of radio stations.
• It can only record 2 stations simultaneously.
Cinch Audio Recorder is also available as a web app and provides a large degree of personalized music and custom stations.
• Provides a better custom stations based on your likes and habits.
• It only records audios.
TuneIn Radio is definitely an amazing modern radio for Android that offers users an opportunity to stream and record from more than 100, 000 live radio stations globally. You can listen to music, sports, and news among others from your favorite stations. The Pro app provides an easy way through which users can find and follow the stations of their choice, shows as well as podcasts, and record them for listening offline. Another subscription tier, TuneIn Radio Premium would include content such as NFL and MLB matches, audiobooks, and language learning only to mention but a few.
This is another top rated radio application which provides a perfect combination for radio shows and personalized streaming. Users can easily access and listen to a wide variety of local radio stations of diverse genres and there is also a capability for users to create their own customs. iHeart Radio improves the user experience by gathering the information based on your music taste and creates a personalized recommendations, live music events and not forgetting the on-demand podcasts.
Slacker Radio is an Android which attempts to include human touch with its searched stations and shows while ensuring personalized music discovery and custom stations depending on the users likes and listening habits. For those who use free slacker, they have an opportunity to access both curated and personalized stations including six song skips per hour. The premium version would get rid of the skip limitations and advertising. It also ensures a good degree of offline listening.
Stichter is an android internet radio app that focuses much on radio talks, podcasts, and documentaries. It has a lot of content from the popular sources like NPR, CNN as well as BBC among others. You can stream your favorite on-demand episodes and download them to use offline.
Being one of the highly recommended radio recorder and streaming application, RadioDroid should as well top your list of preferred radio applications. This open source application has an elaborate layout coupled with great functionality. Through tags, users have an opportunity to access high quality recordings depending on their taste. You can choose to record programs for offline use.
DashRadio is a good radio recording app for users who have appetite for array of musical genres as well as those much interested with new hits. The user can choose from a pool of radio stations to create their personal radio station playlist. With this application, users are simply ensured a generally good music selection such as real classics, and new hits. There are also a special broadcast program featuring design from the popular DJs which are regularly released.
Radio FM is a clear and easy radio recorder and streaming app for Android users. This app provides a large variety of radio stations all over the world for selection. You can create your own favorite radio stations with ease and switch between them as much as you like.
Xiialive is no doubt one of the top ranked radio apps for Android devices across the globe. The program provides a large number of radio stations which can be personalized depending on your taste. It also has the capability for users to record their preferred programs for offline use.
Simple Radio is an excellent radio app that allows users to access radio stations across the globe. You can make use of the search bar to find any radio station by either the name, country, area code, genres as well as songs.
PCRadio provides an already sorted list of radio stations based on diverse genres such as rock, pop, and metal among others. You can search your favorite radio stations from all countries and make them your favorite radio stations for easy access.
This is an amazing music radio app which finds the desired music radio station based on the name of the artist or a genre. Users can make use of the various tags such as #rock #pop #indie among others to get new tracks as well as golden hits. With this program, there is a provision to add every radio station into Favorites to facilitate fast access and the radio channel can be removed from the list as well. You can activate Traffic Economy Mode to continue listening without interruptions in case your internet connection is slow.
This is one of the oldest yet excellent radio recorder application. It is an app that majorly focus on music streaming and boosts smart radio algorithm in a bid to find the perfect music combination. Users can search for the station based on genres or just the name of the artist. Remember you have the option to create up to 100 personal radio stations.
This is another top and popular satellite radio for iPhone users. Users can stream the live concerts and shows, talks with DJs, and real-time band performance just to mention but a few. This program provides more than 150 channels including the popular ones like CNN, FOX News, NBC's, and TODAY among others. One of the possibly good hits is the ability to customize radio feed as per your taste by setting the kind of music, genre, and style of your preference.
This is a new player in the market specially designed to look like a social network app rather than a pure internet radio. This means users would follow people within the social network, access their music and even share with their friends. The app has enormous amount of data and has diverse recommendations.
MyTuner radio is a perfect selection for users who are much interested with the radio channels. The program offers over 40, 000 radios stations across 200 countries. With the vast majority of stations offering news to sports, users have unlimited space to choose their favorite stations. Furthermore, users have the opportunity to create a special list and to add their favorite stations and make the most out of the millions of podcast available.
This is a free radio app so designed to enhance better personalized radio service. The app would automatically play the songs of your artists. It gets this information from your favorite song and creating a custom station which plays these tracks when you tune into. As a user, the app provides the capability create a special radio station based on a number of genres including top 100, indie dance, and hip-hop among others.
This is a good radio recorder and streaming application where instant access to several music genres is guaranteed. These genres include reggae, electronic, jazz, rock, country, and oldies among others. This in a nutshell eases the user accessibility to the host of favorite songs and radio programs.
This is an Apple's radio service app perfectly integrated with Apple music to bring the best experience to radio listeners. The app connects to more than 100 countries and provide a 24-hour streaming service. You can get exclusive music, live shows, movies, and TV shows entertainment.
This is an excellent radio recorder app for iPhone users which provides a great platform to access new songs based on specific genres, songs as well as artists. Despite the fact that you have access to an array of songs, it is good you upgrade to the premium version to allow offline use.
This app to a great extent resembles iTunes. It makes use of your library music to assist you in customizing your own radio stations. Being a large catalogue, you have an opportunity to listen offline to anything downloaded. Although this program is free, users would require a monthly subscription.