Do you want to know what is Deezer and How Does Deezer work?
Deezer.com is an online music streaming website created in Paris, France. It has over 40 million soundtracks that it owns officially from various artists around the globe. It is one of the few sites that maintains a clean record and regularly pays to the original artists through advertisement revenue.
According to their records of 2013, they had over 30,000 radio channels. Followers are said to be an approx. of 25 million as of last year and over 8 million paid subscribers. It is widespread and easily available across all platforms such as Android, iOS, Web, Windows Phone etc.
You can easily use Deezer on your Mac by downloading the app and then enjoy instant access to your favorite music. You can also download the Deezer app on Windows 8 and Windows 10 and gather all of your music in one place.
The benefits of using Deezer over your average Online Music streamer are many. The search is simplified and helps you create the ultimate music library you have desired for years. The results are filtered under the labels of 'Artists' 'Albums' and 'Genres'. If you're in the mood to explore the artist and his whole collection, just click on his/her name and get their full discography in your hands. Hear the latest from your favorite artists and let Deezer pour in recommendations which never fail to amaze as they are always fitting to your taste. There is also a separate folder for all the music you have ever searched, a feature so unique and handy it hardly escapes the notice of the users. Deezer Mac imports all of your iTunes music in a flash in order for you to have all of your music at one place. Feel like a song's lyrics are touching your soul? With Deezer you can access the lyrics of the song without having the hassle to search for the lyrics!
As soon as you sign up and give them a taste of what you listen to, they provide you with 'FLOW' which is the collection of music from your favorite artists, once you click on Play all of your favorite music starts flowing in. In the start around 2006, Deezer was available only in France, Belgium and the United Kingdom. As time progressed they announced their plans to expand globally, they established themselves as the premium and first choice of users in Europe first and then further went to the United States. It is now available in countries such as Australia, Canada, New Zealand along with 35 Latin Countries with the exception of Brazil and Venezuela. On the Asian side of the globe it is available in Pakistan, Philippines, Indonesia, Malaysia, Singapore and Thailand. Deezer is now available across a staggering 160 countries worldwide and serves across multiple platforms.
Deezer is perhaps the simplest online music streaming service you'll ever have. Whenever you sign up it asks you to list down your favorite genres and your favorite artists. As soon as you do that it hooks you up with new 'Flow' feature they introduced back in 2012, what Flow does is incredible to say the least! It fuses all of your music in one place, once you allow Deezer to access your old albums and it constructs a playlist that includes songs with respect to your previous music albums and allows you to further expand your Music Library. It provides you with four subscription plans namely Discovery, Premium+ and Family.
Discovery comes free and is made for most of the users online, this version is ad-supported and the quality isn't the best available. There is no offline mode and neither does it support TV, Hifi, or Google Chromecast. Premium+ is available for 9.99$ per month and includes support for Car, TV, Hifi and Google Chromecast. Family Subscription pack is available it 14.99$ per month and gives you at least 6 accounts to use plus it contains all of the features mentioned earlier. The MP3 Quality available on Family and Premium+ is 320kbit/s.
Although the engineers working behind the scenes have put in all the work to in order to ensure that customers do not face any sort of problem, some malfunctions might still occur and for them the Deezer Technical Support system has tried to help its users. For Example, if the Deezer Website stops responding or the music does not play properly try updating your browser and check your flash player.
In other ways you can clear your cache or even try using a different browser. If the problems are still, there change the computer you're currently using and access Deezer from another source. This issue is common with iOS users where all of their songs disappeared; it mainly happened because of the major update that the operating systems went through.
Some users chose to perform a clean install. In order to download your tracks again, navigate the desired album/playlist or track and toggle the Download button so the color turns green, indicating it's enabled. Sometimes users from different countries might not have access to other songs this is mainly because of them being free users and the artists might not have the license of that particular region.
A Premium+ subscriber should be able to access their Deezer account from any country they choose. There will be slight variations on the catalogue available to you when you are abroad as the licensing agreements vary from territory to territory. There have been complaints that some songs only play for about 30 seconds, if you are using Fidelio AW2000 and having premium version of Deezer then sometimes the user is facing problem of playing songs for less time. There can be a possible reason of this problem is your speaker. To solve the problem of speaker you can reset your speaker by going in setting via airstudio app and then you can try again. You might be facing this problem because your Deezer account may have expired. If you're facing difficulty in the Deezer app via your phone try reinstalling the app and the problems will disappear hopefully.
Part 4. Download Deezer Music by Free Third-Party Software-iMusic
iMusic is an all-in-one music manager tool, facilitating you to download music and playlists from over 3000 sites, transfer music among iPhone, iPad, iPod, iTunes and Android phones, record any audio you're playing, clean up and fix iTunes Library (delete duplicate and broken tracks, get cover and tags, fix ID3 tag, etc). iMusic is a must-have music downloader and manager pro for music lovers to discover and download music, or backup and rebuild iTunes Library even from a Windows PC. iMusic has separate versions for both Windows PC and Mac, which is fully compatible with the latest Windows 10 and macOS 10.13 High Sierra.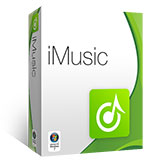 iMusic - Download Deezer Music Free and Easily
Download music from more than 3000 music sites such as YouTube, Dailymotion, Vimeo, Vevo, Hulu, Spotify, and much more through copying and pasting the URLs.
Transfer music between a computer, iPhone, iTunes Library, iPad, iPod and Android phones making it easy to share songs.
Record music from radio stations and streaming sites and gets the identification of the songs including the title, album artist, and genre.
It acts as a management toolbox that lets you manage iPad, iPod, iPhone and Android phones iTunes Library through options like backup iTunes, recover iTunes Library, fix iTunes music tags and covers as well as remove music DRM protection.
Batch download of files is supported where you can download up to 100 songs at the same time.
1 click to transfer downloaded music and playlist to USB drive to enjoy in car.
Ability to burn downloaded songs and playlists to CDs easily.
Guide to Download Deezer Music by iMusic
Step 1: Download and install iMusic on your computer. Launch it and click the "GET MUSIC" menu on the top of the software. Next, click the "RECORD" button.
Step 2: Go to Deezer website, choose one song you liked, then play it .
Step 3: Click the "Record" button and prepare to record the song you're going to play. iMusic will detect the song and record it. During the process, the cover and artist for a record song will be added to the song automatically, making it quite easy for you to identify the songs in iTunes Library.
Step 4: Once completed the record process, the recorded songs will be automatically added to your iTunes Library automatically. You could check the recorded songs in iTunes library.