Now, a large number of people like to add background music to PowerPoint presentation to make the slide show more vivid, while some have problems on adding iTunes bought music to PowerPoint. What's the problem? Well, that's because purchased music from iTunes are protected M4P files and non-protected M4A songs, while PowerPoint supports inserting MP3, WMA, WAC, AIFF and AU music files.
To add protected or non-protected iTunes music to PowerPoint presentation, what you need is an all-in-one DRM converter that can remove DRM from iTunes music and convert iTunes M4A/M4P to PowerPoint friendly audio formats like MP3 first. To do this, you can just get Aimersoft Remove DRM and let the software quickly help you put put purchased music or download songs from iTunes store into Microsoft PowerPoint presentation. This DRM Media Converter performs excellent DRM removal in Windows (Windows 8). Besides iTunes, it can also unlock DRM from music and video bought from Zune, Nokia, Amazon, Napster, etc. and convert all popular video/audio formats, including MP3, WMA, OGG, AAC, AIFF, AVI, MP4, MOV, MKV, FLV, WMV, etc. Get it now and free your iTunes music files!
To convert DRM to MP3, here there is another way, that is by iMusic .
Download iTunes music to PowerPoint converter:
Remove DRM from video files easily.
Rip DRM from audio files with one click.
Convert videos to tons of formats.
Convert videos for all kinds of devices easily.
Part 1. How to convert iTunes purchased music to MP3
After downloading, install the software and then run it. The main interface is as below. As you can see, you can finish converting iTunes purchased M4P music to PowerPoint MP3 in three simple clicks. Just click"Add" to import iTunes m4p/m4a music, choose "MP3" as output format, then press the "Start" button, very easy to use!
Part 2. How to import iTunes M4P to PowerPoint
01
Display the slide to which you want to add music or sound effects.
02
Click insert -> sound -> sound from file. locate the folder that contains the iTunes music file, select the mp3 music you want to insert.
03
In the succeeding dialog box which says "How do you want the sound to start in the slide show", do one of the following.
Click "Automatically" if you want to play the sound automatically when you go to the slide and click "When Clicked" if you want to play the sound when you click the sound icon Presentation.
If you want the music you desired can be played all over the slides. just select "Loop Until Stopped" at the "Sound Option" above the slide, at the same time, in the "Play Sound" item, select "play across slide". If you want the music to play during multiple slides. select "Custom Animation" under the "Slide Show" tab. Under the "Multimedia Settings" option, choose "While Playing" and "Continue Slide Show." You will then be asked to choose how many slides you want linked with that music track.
Done! That's how to insert your iTunes music files to your PowerPoint presentations. Get the iTunes to PowerPoint converter and everything becomes so easy!
Below is a video tutorial on how to put iTunes music on PowerPoint presentations:
Remove DRM from video files easily.
Rip DRM from audio files with one click.
Convert videos to tons of formats.
Convert videos for all kinds of devices easily.
More Reading:
DRM Removal Software Review: Are you searching DRM Removal? This article covers the best DRM Removal software to use for legally removing DRM protection from your videos, music, TV shows without losing quality.
Download a DRM Video: This article will help you easily download DRM videos from online video sites.
Remove DRM from iTunes TV Shows: We've looked at removing DRM from iTunes movies, but what about iTunes TV shows? Here's the detailed tutorial on how to do it.
WMA to iTunes: If you need any help from anyone who shows you how to play WMA audio files in iTunes, here is your objective.
Keep Rented iTunes Movies: This guide provides you a simple way to keep iTunes rented movies on local hard drive forever.
Rhapsody to iTunes: Can Rhapsody songs be imported to iTunes? Yes, of course they can.
Napster to iTunes: When you need to transfer Napster to iTunes for preservation forever, you're coming to the right place. Just do it with few clicks.
Convert Zune to iTunes: This full guide tells you how to convert Zune music to iTunes music and transfer them to iTunes library for sync to iPhone 4/5s, iPod, iPad, etc.
Remove DRM from iTunes: Here we would like to teach you how to remove DRM copy protection from your purchased music.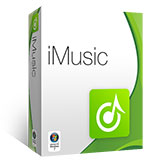 iMusic - Convert iTunes Purchased Music to MP3 Easily
Discover music with the help of built-in music library using an artist's name, hottest playlist, and genres.
Download songs from over 3000 music sites such as YouTube, Spotify, Facebook, Vimeo, Dailymotion, Pandora, and more.
Record online streaming songs and save the content in MP3 format while the program downloads the ID3 tags in the background automatically.
Transfer music between computer/Mac to Android/iOS devices or between Android and iOS devices using drag-and-drop feature.
Create a backup of your existing library and move it to another computer with ease.
Fix your existing music library to clean broken links, remove duplicate tracks, fix mislabeled songs, and add missing covers.
Contains all the tools that the music lover would seek with several options that include removing DRM protection, transferring music to USB, creating a car playlist, and other features.