Here's the thing: You're both a 360 and iTunes fan. You have an iTunes library and want to stream it to your Xbox 360. But you know that songs, videos, movies and television shows purchased or rented from the iTunes Store have Digital Rights Management (DRM) that prevents them from being played on anything but computers, iPods, Apple TVs and iPads. Though Xbox can stream music using Windows Media player or Windows Media Center, it was cumbersome. So you wonder if there is a simple way that you can put iTunes music/video to Xbox 360.
Currently only the Windows Media Video (WMV) file format and codecs are supported by Xbox 360. So if you have a file with a ".wmv" extension, then the odds are pretty good and it will work well on you Xbox 360. However, iTunes provides music in non-DRM MP3, M4A, DRM'ed M4P; TV shows & movies in DRM'ed M4V. Luckily, DRM Media Converter can solve all the problem – remove iTunes DRM and convert iTunes music or movies to Xbox 360 compatible formats. With this DRM remover, you can stream music and movies from iTubes to Xbox 360 in a hassle free manner. Just read on to learn how Xbox 360 stream from iTunes with ease.
Download iTunes DRM remover:
How to access iTunes movies from Xbox 360
1 Install the program and load files
Download DRM Media Converter, install and run it on your computer. Load your target iTunes music, videos or movies into the program. You can just simply to drag and drop iTunes files into Media Converter.
2 Choose Xbox preset as the output format
Have no idea about what video format does Xbox supported? Don'y worry. Aimersoft DRM Media Converter offers optimized presets for game hardware like Xbox 360, PSP, PS3, Wii and more. Here you can choose Xbox 360 or Xbox 360 HD as the desired format.

3 Customize the settings (optional)
Before converting,you can customize the output settings like resolution,frame rate,encoder bit rate to video files or sample rate,channel,encoder,bit rate to audio files for your devices and save it as your own profile. Just click the "Setting" button and a window with various settings to video and audio will popup. You can also choose the default settings if you like.
4 Convert iTunes video to Xbox 360
Connect your Xbox 360 to your computer. Choose a proper media format like WMV for your Xbox 360,and then tap the "Start" button at the lower-right bottom on the main interface. Few seconds later, you can find your iTunes music or video files have been on your Xbox already.
Isn't it the simplest way to put iTunes music videos onto Xbox 360? Why not just have a free trial of DRM Media Converter by yourself?
Tips: If you need to rip DVD Movies to Xbox 360, Video Converter Ultimate is your best choice,which can convert video,audio and DVD Movies to the format you want.
A brief introduction of Xbox 360
The Xbox 360 is a very popular video game console made by Microsoft. It is primarily produced in direct competition with the Sony PlayStation series and eventually, the Nintendo Wii. The device is an all-in-one entertainment system that can do more than just allow its users to play a plethora of games. Aside from playing and downloading various game titles, it can also be used to watch TV shows and play movies. Through the Xbox Live subscription, third-party applications that support media streaming are generally supported.
Technically speaking, one can do a lot of things with their Xbox 360. Users can play games, watch TV shows, download streaming media, and enjoy movies. The Xbox Live subscription usually comes with the purchase. And it can turn their gaming device into a fully-loaded entertainment system in an instant. Xbox Live makes it possible for users to purchase or rent high-definition movies over the internet.
Video/Audio format supported by Xbox 360
The video files that the Xbox 360 supports are mostly formats that are native to the Windows platform. And that would be the Windows Media Video format or the WMV file versions 7 to 9. The device also supports a maximum resolution of 1080p for these file formats. It uses either the Windows Media Audio Pro or the Windows Media Audio Standard for sounds. WMV Image 1 and 2 are also supported. And aside from these Windows-based video formats, the other files supported are VC-1, MPEG-1, MPEG-2, and the H.264 MPEG-4. As for audio formats, the ones supported are WMA file versions 7 through 9, WMA Professional, WMA Lossless, and MP3.
Owning an Xbox 360 is like having the easiest access to a full collection of games, movies, and TV shows available over the internet. Having this device in your den means you never have to be bored ever at all.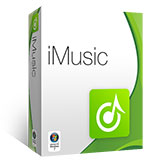 iMusic - Download Music to Windows Media Player from Youtube Easily
Discover all your favorite music and videos using an artist's name, genre, and playlist or now playing. You can further download them quickly to your computer.
Download music/video from over 3000+ websites that also include Facebook, YouTube, Vimeo, Dailymotion, and other leading media entertainment hosting sites .
Record a streaming online content and save it as MP3 or MP4 format.
Transfer downloaded music/video from computer to iOS/Android devices or between iOS and Android devices.
Fix iTunes library that repairs existing songs for broken links, album art, artist information and any other details.
Rebuild and backup the existing library and reconstruct the same when you switch to a different computer.
Transfer the media files to iTunes library or to a new gadget such as an iPhone or an Android phone.
More Reading:
Convert M4B to Kindle Fire: Need to put iTunes purchased M4B DRM audiobook to Amazon Kindle Fire? Follow the step-by-step guide.
Amazon Video to AVI/MP4: This article helps change DRM protected Amazon Instant Video (formerly Amazon Video On Demand) to your device compatible AVI/MP4 format.
WMA to MP3 iTunes: Are you trying to convert a WMA file to MP3 so that you can share them with both iTunes and Zune? Click to learn the detailed information.
Overdrive WMA to MP3: If you want to play Overdrive audiobook WMA files on iPhone, iPod, iPad and Kindle Fire, etc., you should remove DRM from Overdrive files and convert them to MP3. Here we introduce you the most effective way to finish it.
iTunes Video to AVI: Does anyone know how to convert the iTunes format into AVI? Here we provide the best solution.
Convert Napster to MP3: This article shows you a fast way to convert a Napster file to a MP3 file with Napster DRM Removal tool.
Convert Rhapsody to MP3: Just follow the step-by-step guide on how to convert music from Rhapsody to MP3 with one click.
Protected M4V to AVI: Here we would like to tell you how to convert the DRM-protected .m4v format to the DRM-free .avi format.
Convert M4P to WAV: The following step-by-step guide will show you the most effective way for converting DRM protected M4P files to WAV format.
Unlock Ringtones With DRM: What is the safest way for unlocking DRM-protected ringtones? Click here to learn more.