Owning an iPad is a great thing – but only if you've got all the files that you need all stored in it. However one of the continuing dilemmas of iPad owners is how to transfer their videos, music, photos, and other files between the computer and their iPad. Regular synching is definitely an important task, if only for backup purposes. But what happens if iTunes is no longer available? Does it mean that's the end of it all? Of course not. Losing access to iTunes doesn't leave your iPad unusable. As a matter of fact, there are more than enough alternatives available online, which can will keep your device updated nice and dandy. Here are the best three.
Transfer files to iPad without iTunes and vice versa
1 Aimersoft iTransfer for Mac
Aimersoft iTransfer for Mac is yet another cool software that can provide you with almost the same access to your iPad in the same that iTunes does. And like the iTunes, it can do a lot of other things with your files too, like play them on its built-in media player. It may also work for iPhones and iPods without any limits at all.
To use this software, you have to first download it and install it on your computer. Once that's successfully done, you should be able to run the program and access your iPad with it. Just be sure that your device is connected to the computer via a USB cable. Checking the user interface, you'll find the different folders on your iPod on the left side of the screen. Clicking on those folders will show you the individual files under each.
To transfer music, videos, and photos, simply select all files that you need. The output folder is the place on your computer where they'll be stored. If you would like to know what folder that is, simply check the path indicated on the lower part of the screen. You can change that folder if you want. Once everything is ready, simply click on the Transfer button found on the lower left corner of the screen. That will start the whole file transfer process. Aimersoft iTransfer allows users to copy, place, and transfer songs and videos from iPad to the computer without the need to use iTunes. It also has a built-in media player in case you want to view the movie or hear the song before copying it.
2 Fly Transfer
Fly Transfer is a professional file transfer application that is designed for Mac and Apple users. Download, install, and run this app on your iPad and you will be able to seamlessly copy all the files that you need without any problem at all. While this software is primarily intended for music files, it will work for videos, photos, and PDF's as well. And aside from the iPad, it will work for the iPhone and the iPod too.
To use the app, you have to make sure that it is installed on the device. With that all setup, you have to connect your device to a working Wi-Fi connection. Be sure that your computer is connected to the same network. After running the app on your device, there will be a message showing up on the iPad's screen, which is something like http:// and then followed by a bunch of numbers. Type all of those - exactly as you see them - on the web browser on the computer where the files will be copied from. What will open up on the browser is a user interface where you can easily upload or download music, videos, photos, and files between the computer and the iPad.
3 SynciOS
SynciOS is a handy tool that works in almost the same way as the iTunes. This one is a free software that works for the iPad, iPhone, and iPod Touch. It is fully compatible with iOS6 and iOS7 systems, including iTunes 11. However, this software is only intended to work with a Windows machine. Users need to have Windows 7, 8, XP, or Vista on their computer.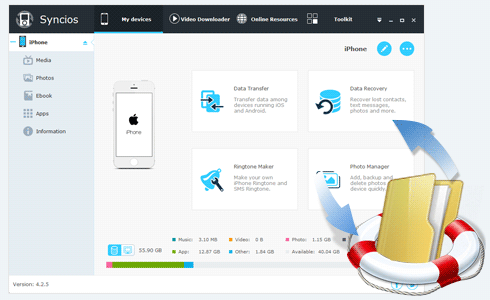 The SynciOS iPad Transfer software can help with copying iTunes movies, DVD movies, photos, TV shows, iTunes U, podcasts, Camera Roll, eBooks, photos, and voice memos from the iPad and into the computer. It can even work with multiple devices at the same time.
If you need a software that can do more that just copy files but also make you a backup, this one is a good alternative. Incidentally, it also allows for the seamless sharing of files between the iPad, the computer, and other devices. This software support even the newer Apple devices.
So if you've got some files on your iPad that you would like to transfer into your iPhone, that can be easily done with this software too. You just have to connect both devices on your computer so you can copy from one device to another without the need of putting the file to the computer first. With a transfer software as good as this, it is easier to keep all of your files safe and secure.
Furthermore, the software also has a built-in audio and video converter, thus making it easier for users to transform ringtones, movies, and other files obtained from the internet and into iPad-ready files. SynchiOS also has a similar software that works in the same way for Android devices.