It is a common thing for users to look for ways on how to transfer a music file or a video from a PC to an iPod. But what if you want to do the other way around, which is to transfer movies and songs from the iPod and into your computer? Below are the three convenient ways on how to do it. However, you might have to install a software for each suggestion.
How to Copy Music videos between iPod and PC
1 Through Aimersoft iTransfer for Mac
Aimersoft iTransfer for Mac is a nice software to use for copying music, podcasts, movies, TV shows, playlists, audio books, play count, ratings, and a whole lot more, from your iPod to your computer. It works with the iPhone and the iPad as well.
This software can import directly to iTunes and copy directly onto the hard drive at the same time. It's a very easy-to-use and understand software, as step-by-step directions are available from within the user interface. The software makes all IOS devices work on a plug and play mode.
The iTransfer is compatible with Mac. Just download the version that is right for your system. There is a free trial available from the manufacturer's website. The full version software, on the other hand, costs a mere $39. Try this software today and see the difference. You can even do without iTunes if you have this one installed. This one has a few other features available too.
2 Through TouchCopy
TouchCopy is another good software that can help you transfer music, videos, and files from iPod and back to your PC through the iTunes software. It will also work for playlists, apps, games, eBooks, and photos. And since the iPhone is also supported, you can use it to transfer contacts, messages, and voice mails from your phone and into your computer. For a seamless transfer of files, run the software and just let it work as designed. It is the ideal tool to use for backing up your iPod or iPhone's data, regardless if you've got a Mac or a PC at home. Saving your cherished files can be done with just a few clicks of the mouse.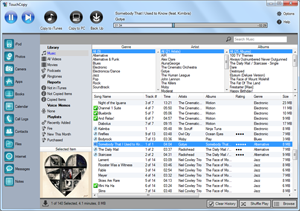 All models of the iPod, iPhone, and even the iPad are supported. Technically, this software will work for Apple devices running on iOS6 or iOS7. It is compatible with iTunes 11 as well. If you want to try the software, there is a free version available. However, once your trial expires, you would have to buy the full version to continue using the software.
There is no doubt that this tool is one of your best choinces when it comes to iPod, iPad, or iPhone file transfer requirements. TouchCopy can protect your files against data corruption and help restore your iTunes Library at the same time. Syncing your device with your computer has never been easier than this.
3 Through YamiPod
For those who are looking for a free software that can do the job, YamiPod may just be the answer. This software can efficiently manage the music videos stored on your iPod. What's more, it can run directly from the device itself. This one is also a stand-alone program so there is no need to install. You practically just add the file into the device and run it. It is that simple. YamiPod works for Mac, Windows, and Linux systems. Once you have the software loaded, the iPod is automatically recognized for seamless transfer. As such, you only have to copy your files from one device to another. It can copy playlists as well.
YamiPod offers a wide range of features for a freeware. It has got full unicode support and has advanced song import and export settings. You can also use the software to restore and find lost songs, remove duplicate tracks, and edit ratings. It also comes with a built-in music player so you do not have to guess which files to take out and which files to leave in the iPod.
Furthermore, YamiPod has full language support. Being so, it can be used by all users from around the world. However, one of its major setbacks is the fact that it won't work with the iPhone, iPad, or iPod Touch. But almost all other iPod generations are supported just fine.
These are the top three software suggestions for you, if you want to transfer files from your iPod and into your computer. However, if you want to do it without using any software, that is quite possible too. You just have to activate BlueTooth on both your devices or transfer files using the USB cable. The iTunes becomes your ultimate file transfer tool. Your files will then be stored in iTunes, which in turn, will be accessible from your computer.
While that seems to be the easiest solution to the problem, such method only works for audio and video files that are purchased from within iTunes. If you have several items in there that you also want to transfer but you obtained them someplace else, this method won't work. It is for those files that the above-mentioned software will come handy. What's more, the software above are kind of easier to use as well, compared to having to go through the task of synchronizing your device via a BlueTooth connection and doing the file transfer manually.